Solidteknics is a brand we know and love, so it's no surprise that the next item we're reviewing has exceeded our expectations. Their USA US-ION 14-inch Flaming Skillet is a high-quality cooking pan with a wide range of applications that is designed to consistently deliver excellent results. This pan will undoubtedly become a kitchen staple, whether you're preparing a tasty meal for your family or entertaining guests.
Introduction to the Solidteknics 14-inch Flaming Skillet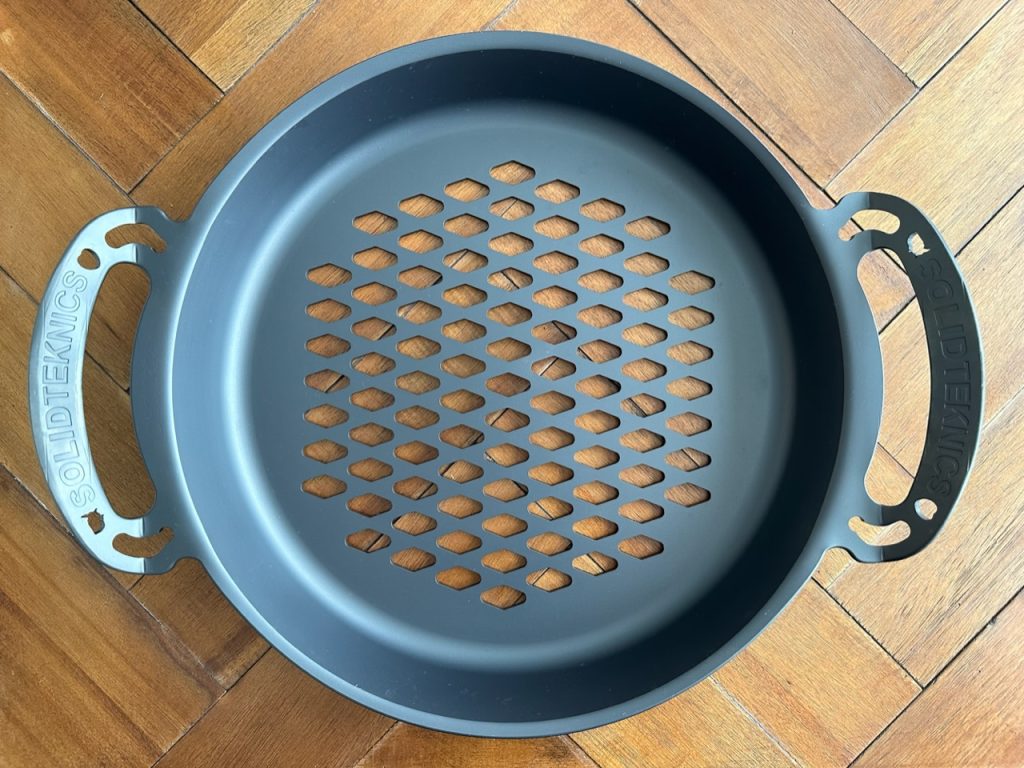 When it comes to cooking, having the right tools in the kitchen can make all the difference. Every aspect of your cooking experience, from the ingredients you use to the utensils you use, can have an impact on the end result. As a result, having a high-quality, adaptable, and trustworthy cooking pan is critical for allowing you to cook with confidence. The Solidteknics Flaming Skillet is an excellent choice for anyone who enjoys cooking.
This workhorse, known as the "Flaming Skillet," is 14″ long and made of solid 5/32″ (4 mm) wrought iron. This means it's thicker than carbon steel, cooks like cast iron, cooks evenly, and resists warping while remaining lighter than cast iron. It is built to withstand the rigors of daily use, ensuring that it will be a kitchen staple for years to come.
The Flaming Skillet has a perforated base (holes in the bottom) to make sure the flames from an open fire flavor your dish without barriers. We've found lots of uses for this skillet on our smoker. The perforated base comes in so handy when making sure the wood smoke envelopes our meats and veggies. It is intended for use on all types of cooktops, including induction, gas, electric, and ceramic. This makes it an excellent choice for those who enjoy cooking with a variety of heat sources. You'll just want to make sure that nothing is dripping through the perforations if you're using it on a standard stovetop.
This skillet fits perfectly into the BIGGA Skillet, which we've also reviewed on the site. We've used both in combination to smoke up some incredibly delicious turkeys. In fact, we've enjoyed using it so much that we've been making sure we have some frozen turkeys on hand so we don't have to wait for Thanksgiving to sink our teeth into some! The BIGGA helps to catch anything dripping from the meat during the trimming and seasoning phase, and then the Flaming Skillet lifts out to be placed over the fire.
We appreciate how the Flaming Skillet comes quenched (pre-seasoned) to provide us with a great foundation to build upon, making cleanup a breeze.
Conclusion
If you're on the hunt for a 100% made in the USA (Chicago!), healthier alternative to nonstick pans that can withstand the heat of an open flame and offer a meal so good you'll have people lining up for seconds (maybe even thirds!) this is the brand and the pan to start you on your journey. The Solidteknics US-ION 14-inch Flaming Skillet is an excellent choice if you want a high-quality and versatile cooking pan that will make your life easier in the kitchen. This pan is sure to become a kitchen staple for years to come thanks to its durable construction, even heating, and easy-to-clean design. You can purchase the Flaming Skillet from the Solidteknics US store.
What other ideas come to mind for using this solid piece of art in the kitchen or campground? We're thinking we should throw a pizza on here next and pop it in a pizza oven! Our mouths are watering just thinking about a charred bottom pizza dough.
If you enjoyed this article, take a look at our reviews of the 10-inch nöni skillet and 14-inch BIGGA skillet, also from Solidteknics!