Finding low-toxin, durable cookware can seem almost impossible, and searching for the ultimate skillet is definitely an overwhelming task, but we're here to show that it is possible and we have found it! The impressive nöni skillet hits the mark as a fantastic addition to your kitchen, all thanks to an innovative man named Mark James Henry and his fantastic company known as Solidteknics.
nöni skillet overview
Solidteknics started as an Australian based company and has since progressed into manufacturing in Chicago as well. The review unit we received is the US version of their nöni skillet, which is constructed of solid 1/8-inch highly conductive non-nickel ferritic stainless steel. It is said to "hold heat and resist warping better than nickel stainless steel" and to "cook like iron but clean like stainless steel."
Solidteknics also states that this skillet is "more conductive than all the old clad multi-ply cookware that has dominated at the top end for decades. [They] don't need aluminum or copper clad layers because [they] used the right solid ferritic (non-Nickel) stainless, and it is nothing like your clad austenitic (Nickel) stainless."
The "patented one-piece and rivet-free construction" is supposed to be easier to keep clean and avoids loose handles over a period of use. In simpler terms, this skillet is made of a single piece of stainless steel, from the tip of the handle to the bottom of the pan. Because of this, the nöni skillet is safe for induction, electric, gas, BBQs, and even fire pits!
The dimensions for their range of products can all be found on their website, but for this specific nöni skillet (according to the description on Solidteknics USA) the length is 20.3" with a diameter of 10". The height of the handle is 2.9" and the height of the bowl is 1.57". The base of the skillet which touches the stove comes in at 8.66" and it is said to have a 1.75qt capacity and weighs in at 3.3 lbs.
Using the nöni skillet
Upon opening the box we knew right away we had just found the new king of our kitchen. Although the immediate thought to just hang it on the wall and use it as décor did cross our minds. It was just too pretty to even use! The minimal design and simplistic nature of this skillet are two of its main features, and less is really more.
The nöni skillet is built to last generations and that is immediately evident. The solid one piece design is simply breathtaking and unlike any other cookware we've experienced. No screws, bolts, or extra hardware to be seen. Just heavy enough to feel like quality, but not weigh your arm down and the weight is evenly distributed.
The long handle is one of our favorite little touches and has the United States map carved out of it along with a heart and extra slits toward the body of the pan that allow the heat to disperse, which means the handle is always able to be touched without worry of it being hot. This is the opposite of most one-piece skillets such as popular cast iron models which heat the handle to uncomfortably hot temperatures shortly after the body. The nöni skillet's ability to let off heat before it makes it to the handle speaks to the incredible thought that went into its design.
The bottom of the pan also has the US map etched into it along with Henry's initials, an X to mark the spot (Chicago), the date in which is was manufactured, and the edition all encircled by the name and material makeup of the pan. Talk about everything you need to know about this useful piece of art! 
The bottom is relatively thick to disperse heat evenly, but it still heats quickly and cools quickly and effortlessly, much better than other skillets we've tried. We've cooked up eggs and chicken, roasted peppers and onions, toasted slices of bread and much more on this beauty already and can safely say that anything you cook on this workhorse will be fantastic.
The after-meal cleaning really is a breeze, even when it comes to the notoriously difficult scrambled eggs residue, because all we have to do is soak it for a bit and anything stuck on comes right off with minimal scrubbing.
Along with cleaning, one of the best features of this pan is the worry-free cooking that can be done with it! No need to fuss about scratching the coating off because there are no toxic coatings to be found, meaning you can use metal cooking utensils without issue unlike other options. Wooden and silicon utensils also work great. This truly is a piece that will last generations.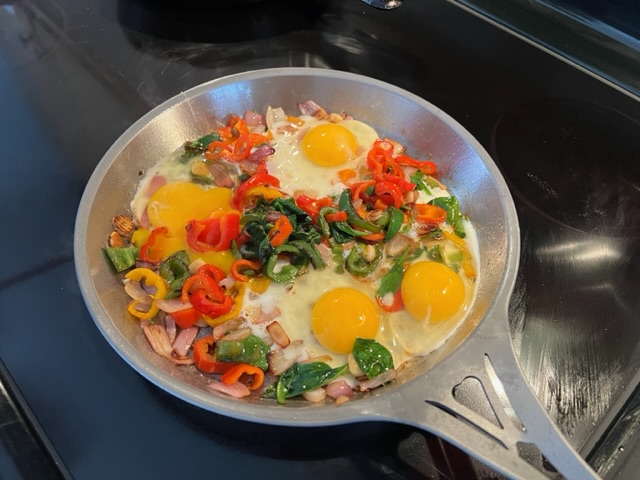 Summary of the nöni skillet
Would you find it silly if we told you we try to find any excuse to cook these days just so we can use our nöni pan? This is perhaps our #1 favorite piece to have ever reviewed over here at SelectedText. Trust us when we say run, don't walk, to go grab this piece of cookware you're certain to fall in love with. Everything about the nöni skillet feels just right. The thoughtful design, durable build quality, and safe materials and make up an incredible, buy-it-for life skillet. We can definitely recommend this Solidteknics product to anyone interested in a one-and-done product.
You know what else we're excited about? Solidteknics has even more cookware to explore, including wrought iron pans in all shapes and sizes! We can't wait to keep adding to our collection and sharing what we learn about each piece with others. You can purchase a noni skillet or any of the family of products for yourself on their US store or pick up the Australian iron variety on Amazon.
Thank you to Solidteknics for sending us the 10″ nöni stainless steel skillet to review. As an Amazon Affiliate, we earn on qualifying purchases.