It's rare to find organic beauty products that are not only safe for your body, but that also work well. That's why we're excited to share Henné Organics and what we've learned about their product lineup with our readers.
Overview of Henné Organics
Henné states that their mission was to create products that "give you the most natural and effective beauty with impeccable Scandinavian design" and "that truly work, ingredients you can trust, and packaging so eye-catching that you can't wait to reach for them."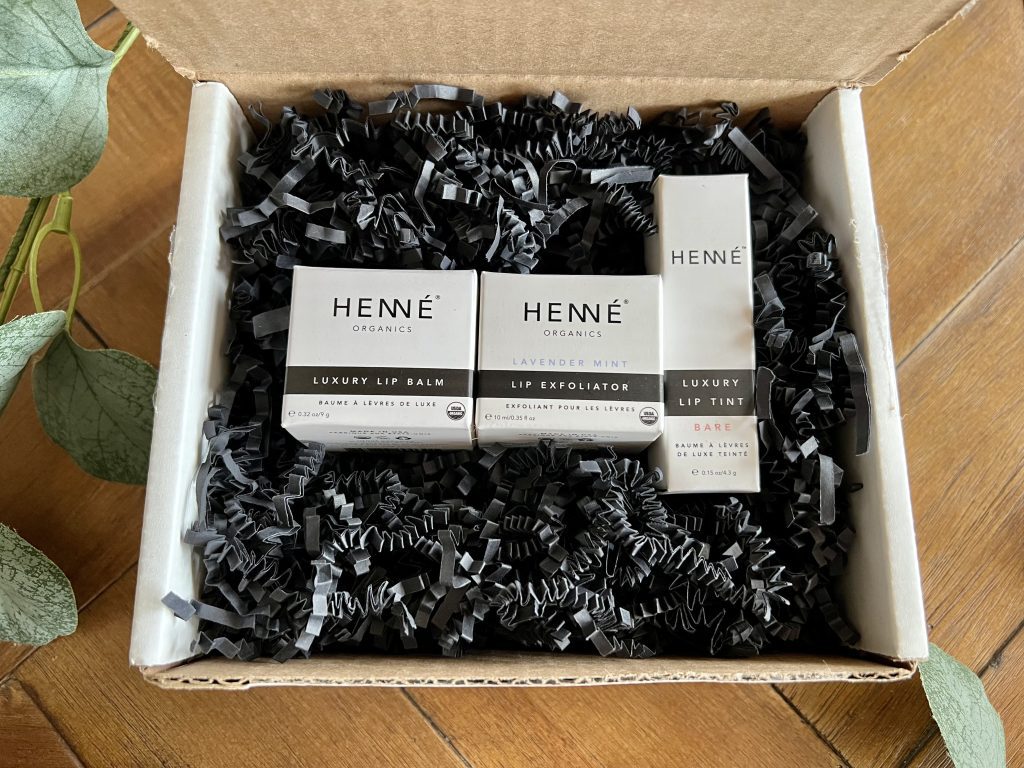 Right out of the shipping box, we knew Henné Organics had done what they had set out to do. With obvious attention to detail and transparent marketing, Henné had us eager to reach for these products that had such a minimalist feel and luxurious appearance with shiny black reflective packaging. The tops of all three items came off with ease and were all a decent size for throwing into a purse, pocket, or simply holding in your hand.
After testing all three products for a few weeks we found the performance to be just as luxurious as they seem. We've highlighted the individual items below with our thoughts on each.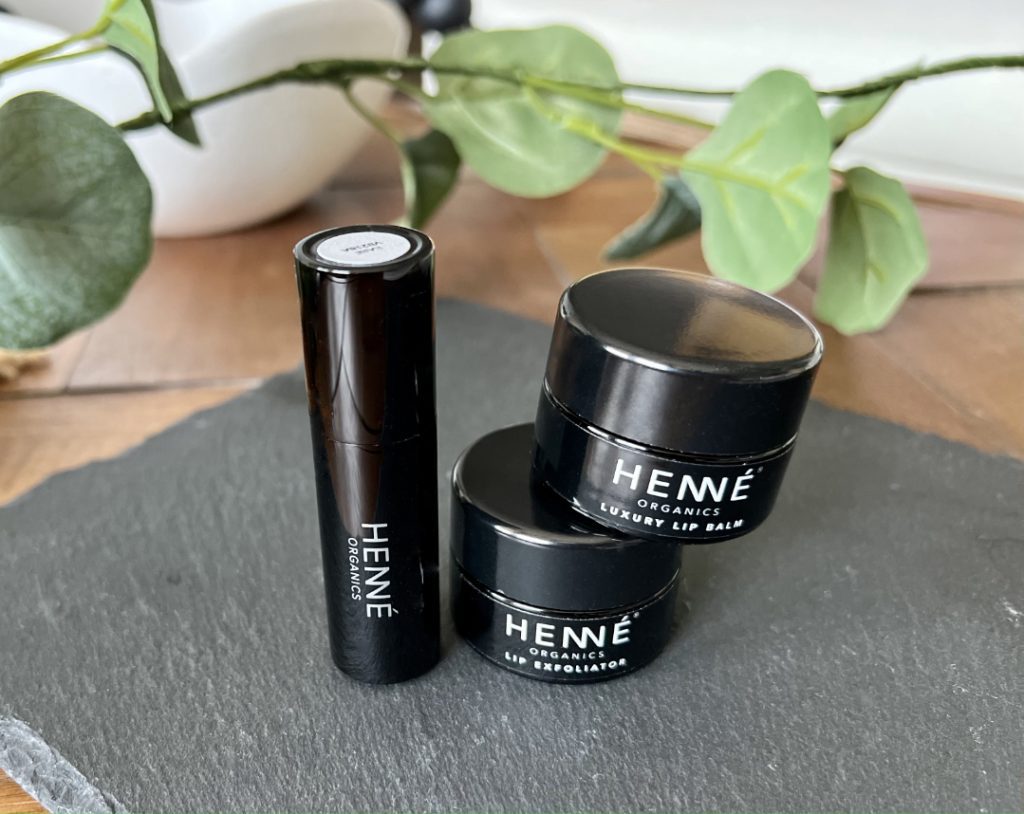 Henné Organics lip exfoliator
The lip exfoliator we received is the lavender mint scent, with mint coming through softly with just a hint of sweet, calming lavender to back it up. The ingredients are what really highlight Henné Organics' attention to detail. They state this exfoliator is 96% organic and 100% non-GMO with ingredients such as "Sucrose (Sugar), Organic Cocos Nucifera (Coconut) Oil, Organic Cera Alba (Beeswax), Organic Simmondsia Chinensis (Jojoba) Seed Oil, Organic Butyrospermum Parkii (Shea) Butter, Organic Vanilla Flavor, Organic Lavandula Angustifolia (Lavender) Oil, Organic Mentha Piperita (Peppermint) Oil, Tocopherol (Vitamin E)".
Upon using the lip exfoliator a few times a week for several weeks, we enjoyed the mild scent, sugary base, and the extremely smooth lip feeling we were left with. In fact, we found ourselves using it more than even necessary (every night!) just because we wanted to experience it again and again.
Henné Organics lip balm
The luxury lip balm we tested was all natural without any fragrances or essential oils to add a distinct scent, which we love for sensitive lips! On Henné Organics' website they state that the pure ingredients are all you smell and that "the scent is very mild and most customers describe it as a light mix of coconut and chocolate," which we found to be the case as well. Stating that 99% of the ingredients are organic, 100% non-GMO, this lip balm contains amazing things like "Organic Cocos Nucifera (Coconut) Oil, Organic Cera Alba (Beeswax), Organic Persea Gratissima (Avocado) Oil, Organic Butyrospermum Parkii (Shea Butter) Fruit, Organic Theobroma Cacao (Cocoa) Seed Butter, Organic Simmondsia Chinensis (Jojoba) Seed Oil, Tocopherol (Vitamin E)."
We started carrying this lip balm around in our pockets in order to get a good feel for it with daily use. We noticed it kept out lips much more hydrated and softer than any other natural lip balm we have experienced up to this point. Putting this on after the exfoliator really sealed the deal with locking in those soft lips all night too!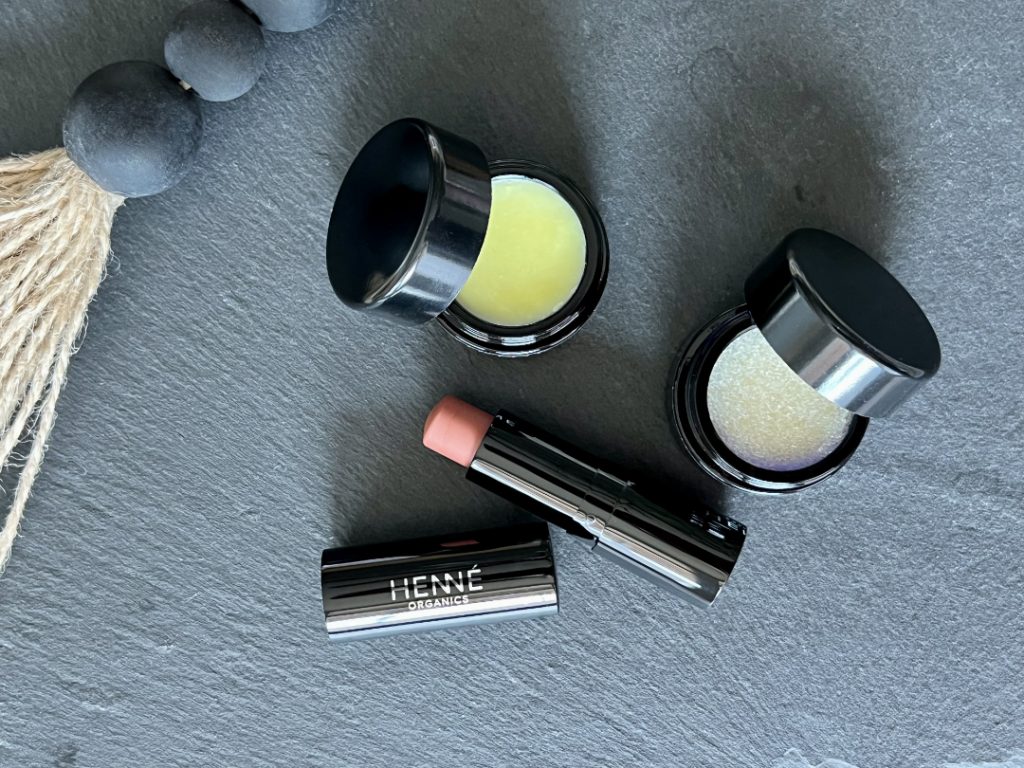 Henné Organics lip tint
The luxury lip tint, which is said to be packaged in aluminum, was in the color "Bare" and has 88% of its ingredients coming up as organic. These ingredients include "Organic Cocos Nucifera (Coconut) Oil, Organic Ricinus Communis (Castor) Seed Oil, Organic Simmondsia Chinensis (Jojoba) Seed Oil, Organic Cera Alba (Beeswax), Organic Persea Gratissima (Avocado) Oil, Euphorbia Cerifera (Candelilla) Wax, Titanium Dioxide, Iron Oxide, Tocopherol (Vitamin E)."
To get the color right on the lip tints Henné Organic's uses different solutions, but for the shade "Bare", they state it includes "iron oxide and titanium dioxide (larger particles, not nanoparticles)" to achieve the natural appearance of this specific lip tint. We were happy to see the tints are also "scent-free, flavor-free, and essential oil-free", again for sensitive lips sake on our part.
We preformed a quick test on the back of the hand to show the true color and were pleased with the neutral shade that wiped off (or perhaps, rubbed in?) instantly without any abrasive scrubbing on our part.
We would apply the lip tint after using the exfoliator for a smooth finish, with smooth being an understatement of how this product glides on. It was possibly the smoothest lip product we've ever applied. Creamy and beautiful are the best words to describe it. The tint of the product really came through, going on subtly at first, but deepening into a richer color depending on how many times you'd reapply to achieve the desired pop.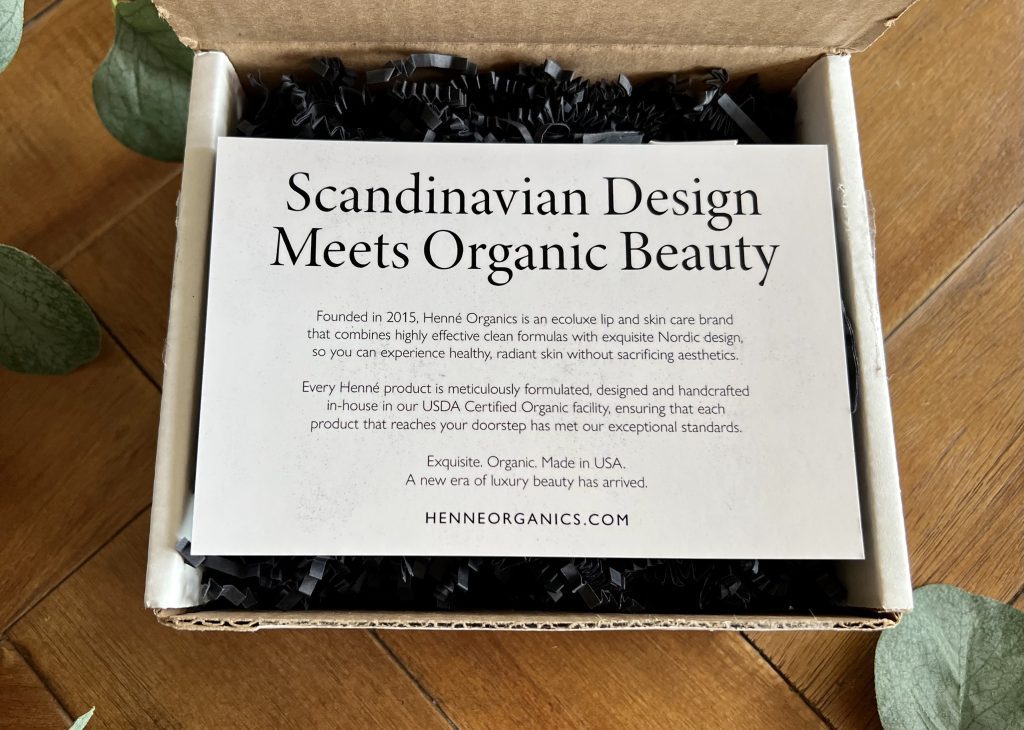 Is Henné Organics worth it?
Overall Henné Organic's came through as an excellent choice for those looking into safer options for beauty products that actually work! Did we mention that they also sell face oils and hand creams? We're looking forward to possibly testing those out in the future and anxiously await to see what Henné will continue accomplishing with their quality products that keep the informed consumer supplied and satisfied. You can purchase the Henné Organics lip exfoliator, lip tint, and lip balm on Amazon. We'd like to thank Henné Organics for sending over their products for review.
As an Amazon Affiliate, we earn on qualifying purchases.