We at Selected Text think it's so important for everyone to be informed, educated consumers, and that includes the cotton products such as washcloths you're using to scrub your face and body, as far out as that may seem to some people. We've heard so much about pesticides and non-organic chemical dyes on normal, every day washcloths, that we've decided to go down the organic cotton proverbial rabbit hole and test out just how much of a difference it makes for our skin and overall health.
Overview of Organic Cotton Washcloths
Bioweaves is one example of a company that sells 100% organic cotton towels that have been certified with GOTS (Global Organic Textile Standard). They state that "2 ply super soft low twist organic cotton yarns are used to make these amazingly soft towels". Also claiming that they are "non-toxic & chemical free 13 x 13 towels that are luxurious, durable, dense, and heavy [with a] 700 GSM construction high pile height and [have a] super soft and fluffy hand feel along with fast absorbency".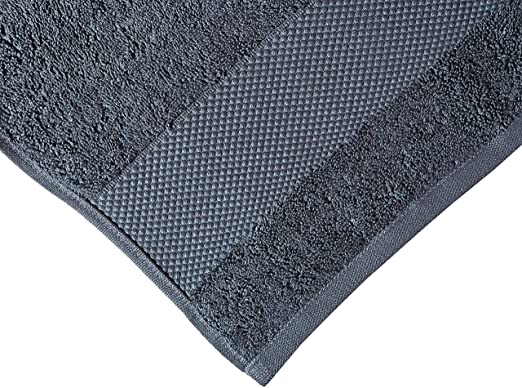 This pack comes with 12 washcloths for around $33 and are available in multiple colors, including, but not limited to, charcoal (this is the one we chose), ivory, sea foam, and white. Matching hand towels and bath towels are also available to buy as separate sets. Bioweaves states that "all [their] towels are made at socially responsible facilities, using sustainable processes & recyclable packaging materials in India."
Our last set of non-organic washcloths lasted us about two years, and for the price we paid for those it definitely was not worth it. So we're excited to see how long these organic washcloths hold up and if all fairs well, will be adding to the collection as time goes on. We've put these towels to use for the past month and can say our skin is loving them. No breakouts, damaged skin, or itchiness.
Are these organic cotton washcloths worth it?
Bioweaves' organic cotton washcloths are indeed heavy and dense but feel luxurious and will likely last longer before wearing out as a result. They wash well in our washing machine and dryer and we noticed that only the first wash brought a good amount of lint. The second and third washes were vastly smaller in that department. They feel extremely soft while still allowing for a good scrub!
To top it off, they look nice in our linen closet and seem like they will be holding their shape well with use. We're on board with living this organic towel life! You can purchase Bioweaves' organic cotton washcloths in many different colors on Amazon.
As an Amazon Affiliate, we earn on qualifying purchases.