In a never-ending quest for better gaming gear, the Glorious Model O mouse by Glorious PC Gaming Race has recently received my attention as a great lightweight mouse option, and naturally a Model O review was in order. While I was looking into a lightweight option for a while, keeping the budget in mind was important, and Model O fits into it decently well.
Glorious Model O Review
Coming in at 67 grams for matte versions, the Model O mouse achieves its lightness with a honeycomb hole design in its exterior. This is often the case in lightweight mice, but it doesn't seem to affect the strength of the structure. It does allow a little more dust than normal to enter the mouse, which could create issues over time but should be solved with a can of compressed air. Water and Redbull spills won't be so easy to resolve, though.
I purchased the matte white mouse as I find the lighter color refreshing, but most epic gamers may prefer the matte black version, which looks just as nice. There are also glossy versions that feature a more gripped texture but shows fingerprints. As with most non-glossy mice, I have no issues holding onto the matte Model O, so glossy is likely an option that is less popular than its matte counterpart. The glossy version also adds an extra gram to its weight.
The stock Ascended cable and G-skates feet on the Model O work together well with its lightness to move quickly and smoothly across a mouse pad, which is important in FPS games requiring flick shots and fast movement. The scroll wheel has ridges that allow for accurate scrolling, but it's a bit slow for normal computer uses on web pages and in documents.
There is a DPI button on top of the mouse behind the scroll wheel and side buttons that are programmable. The side buttons move back and forward in web browsers by default, and are Mouse 5 and Mouse 4 in games by default. They're well-placed buttons that get the job done without cluttering the mouse or getting in the way.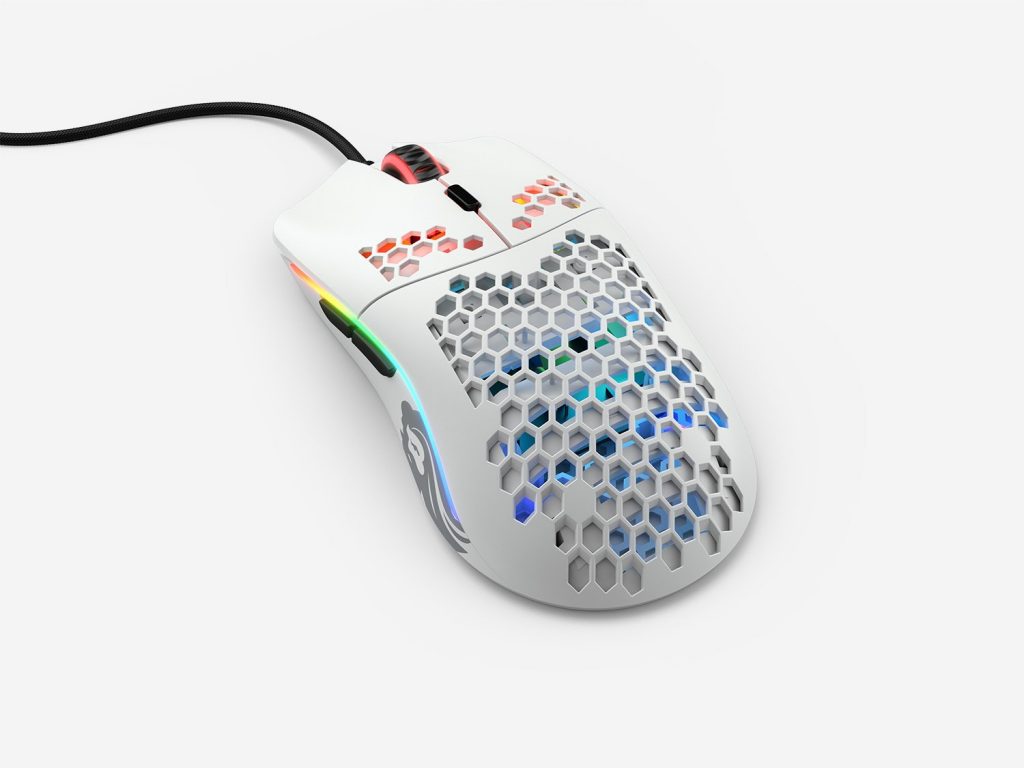 Build Quality
The build quality of this mouse felt great at first. There was no creaking of the body, the buttons felt great, and much of the initial quality is still there. Unfortunately, time has a way of changing things, and for a few weeks now the mouse of my Model O has been emitting small creaks here and there, depending on grip tightness and usage. I can very easily make the rear end creak with a squeeze, although the noise isn't apparent during normal usage.
While this doesn't affect performance in the slightest, it is a tad annoying to experience this issue in a mouse that is only a few months old. Perhaps my mouse came from a subpar production batch and yours will be better. Your mileage may vary. But our Glorious Model O review needed to mention this potential issue. Still, it's definitely my personal gaming mouse of choice.
Software
The Glorious Model O software suite is lightweight and sufficient in my experience, and the mouse remembers its settings even when the application is unavailable. Starting your computer doesn't bring out the flowing rainbow of unicorn vomit RGB until the application can launch, which is a great plus in favor of this mouse just working when you need it.
The ambidextrous shape of this mouse is comfortable for my palm grip, and I don't experience any fatigue from using it for extended gaming sessions that run several hours. The width is nice, as is the length, even though I don't have large hands. I am eager to someday test the ergonomic shape of the Model D, but for now this mouse suites my hand nicely.
Conclusion – Glorious Model O Review
Overall, our Glorious Model O review conclusion is this. Model O a great choice for any gamers or general users wanting a lightweight option without breaking the bank. Although $50 isn't necessarily cheap for a mouse, it's far from the most expensive choice in the newer light mouse market, which has seen growing popularity in recent years due to the increase in streamers and YouTubers playing first-person shooters such as Fortnite, Apex: Legends, CS:GO, and Call of Duty: Modern Warfare that require quickly flicking their crosshairs around the screen to eliminate opponents.
If you're interested in trying a lighter mouse that is aesthetically pleasing and relatively minimal in the gaming space, the Model O is one of your best choices. Coming from a Logitech G502 that I previously reviewed, the Glorious Model O is, for me anyway, the superior choice, and I haven't looked back since.
Glorious Model O - Worlds Lightest RGB Gaming Mouse (Matte Black Edition) (67 Grams)
As an Amazon Affiliate, we earn on qualifying purchases.