While luxurious is the word that comes to mind when considering the Ember Mug, it has quickly become an essential part of my day to keep my coffee warm. Having a Bluetooth-connected mug seems radical at first, especially when you consider that you now have to charge your coffee mug on top of all the other tech in your life. But for anyone who likes to enjoy coffee over a longer period of time and finds their cup cold before it's empty, the Ember Mug is an essential luxury.
Ember Mug² Overview
Ember has a range of mugs available, including different sizes and colors. The cheapest option is 10oz with three grayscale colors, but you can also upgrade to a 14oz mug or metallic colors, as well as a 12oz travel mug. Pricing is rather steep, with all options being over $100. Luxury isn't cheap.
Any of these mugs will connect to Ember's smartphone app, which provides temperature control and presets for different drinks. While simple to use, the app probably won't be necessary after you've found your preferred temperature, unless you switch up your hot drinks frequently and want to change the presets to match. The travel mug does has touch-sensitive controls for changing the temperature without digging into the app, which is a nice feature.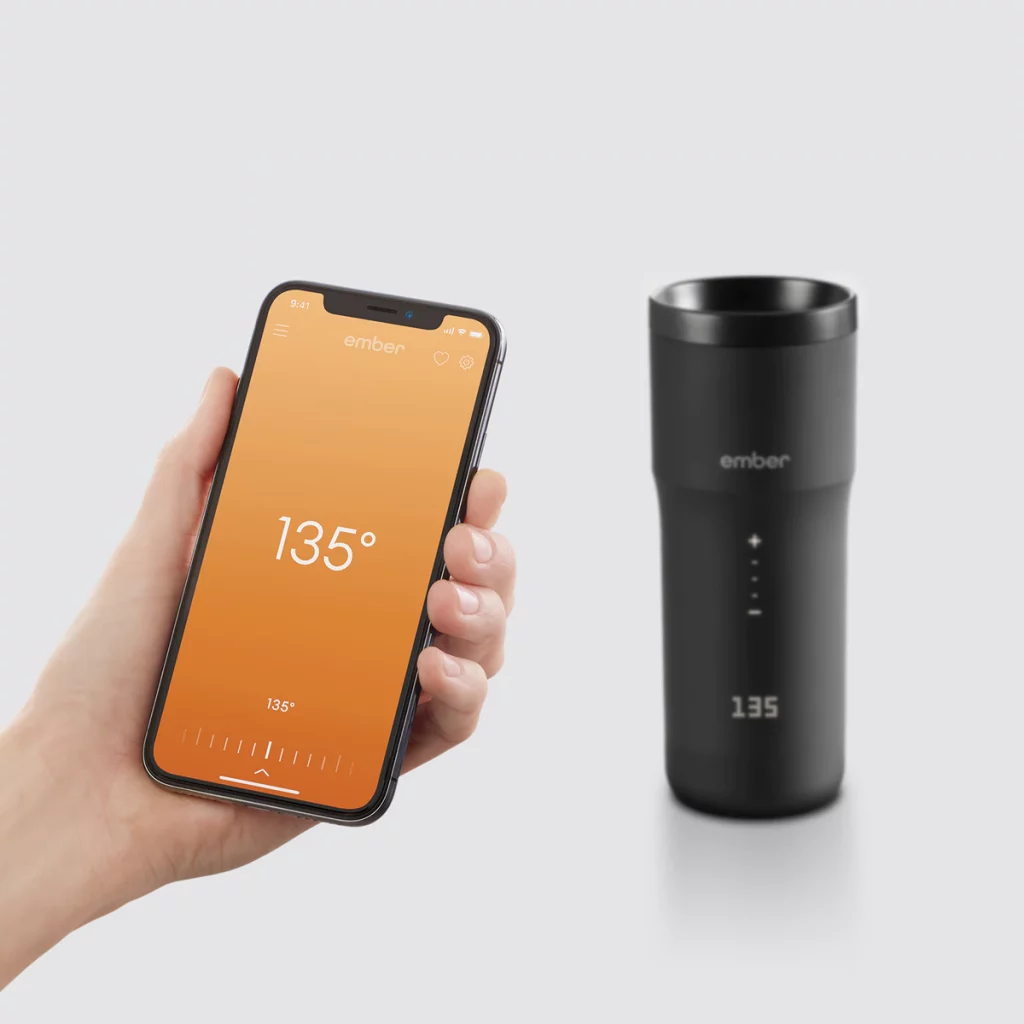 Personally, I drink pour over coffee daily and haven't changed the temperature in the app since I first dialed it into my sweet spot of 140 degrees Fahrenheit. The app also lets you change the accent color on your mug's LED. Most of the time, the LED won't be on your accent color, though. It glows white when the mug is heating your coffee and switches to red when your battery is low.
Charging the Ember Mug
Charging the mug couldn't be more straightforward. Each unit comes with a saucer that doubles as a charger, so getting on your way back to a full battery is as simple as setting your cup down. There's also no way to misalign the cup on the charger, so you don't have worry that it might not have charged by the next day.
That said, the battery that's built into the bottom of your mug doesn't last forever — one-and-a-half to three hours, depending on the model you get. For a lot of people, this is plenty of time to drink a cup of coffee, but as I work from home, often my cup is still half full by the time the battery dies.
The solution is simple, though. I keep the charging saucer on my desk where it usually sits as I drink it, extended the heating features as long as I need them. The battery does add some weight to the bottom of the mug, but I quickly adjusted to the balance and find that the bottom-heavy design can help add a little bit of protection against accident spills.
Is the Ember Mug actually worth it?
The simple truth is that the Ember Mug² is a luxury. You don't need it to get through a day, but it will make your day better if you want to enjoy a hot beverage for longer. For those of us who drink coffee while working and get distracted only to come back and find a cold cup waiting for us, Ember eliminates that first-world problem for a price, but it's worth it if you can afford it.
If you love to enjoy coffee or tea at home, the Ember Mug at 10oz is incredibly convenient, but you can always go with the 14oz model if your cup is extra full. If your lifestyle requires your hot drinks to be consumed on the go, you might find the thermos-style Ember Travel Mug more convenient. Either way, if it fills a need in your life, the Ember Mug² is a fantastic addition to your day and an excellent gift for a coffee lover.
As an Amazon Affiliate, we earn on qualifying purchases.