Let's start out by saying that having "super" in the name of the Dyson Supersonic hair dryer is by no means an overstatement. The amount of power packed into this handheld wizard would blow anyone away (pun intended), as you'll see from our Dyson Supersonic hair dryer review. This hairdryer is engineered to protect hair from extreme heat damage by drying your hair faster. Dyson also claims it helps increase smoothness by 75%, increases shine by up to 132% and decreases frizz and fly-aways by up to 61% according to Dyson's website. That's quite the load-out!
Is it actually worth $400 though? That's a question we asked ourselves before plunging into our budget for one, but as exasperating as it is, Dyson manages to make products so ridiculously well that the ridiculous price tag on the thing is actually kind of ridiculously worth it. Take a look at our thoughts after purchasing the Dyson Supersonic hair dryer in black/purple.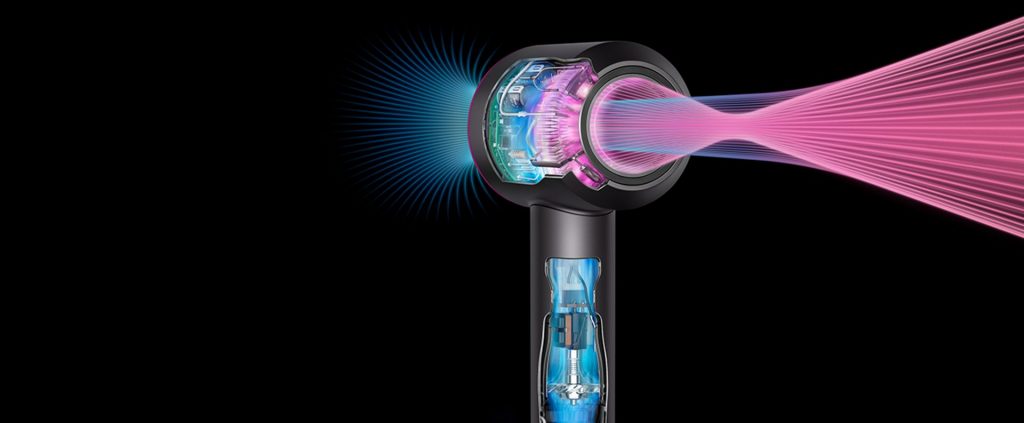 Dyson Supersonic Hair Dryer Review
It's no secret that Dyson has a flair when it comes to design. Their products always look futuristic and minimalist, which catches the eye right off the bat. This hairdryer comes in 6 different color schemes, but apparently that wasn't enough for Dyson. They wanted something to take them over the top. Something that a person could hold in their hand and feel like they were holding a monarch's scepter. So they created the Dyson Supersonic hair dryer… in 23.75 karat gold. For the same price as the less Queen-Elizabeth-the-Third version. Who doesn't need that in their life? 
Other than the obvious appearance with the Dyson Supersonic, it really is an incredible device. The "Dyson digital motor V9" packed away in this hair wand spins up to 110,000 RPM, propelling 13 liters of air up to the amplifier every second according to Dyson. Since I'm one of those people who doesn't quite understand how powerful that is we tested it out and found that we could feel the airflow from over 15 feet away! It became a toy for us as we moved further apart, one of us holding the Dyson Supersonic hair dryer while the other took the blast of heat. Talk about not-so-cheap-entertainment. 
As for the faster drying, Dyson isn't exaggerating here. I should mention I have longer hair than most, coming in at almost a whopping 4 ft. For a more visual image of that, being five and a half feet tall, my hair falls below my knees. Having that amount of hair meant drying would take me over an hour after washing, and even then it would still have damp spots within it the rest of the day.
Most times I wouldn't even bother, which was very inconvenient when it came to leaving the house without styling or going to bed with wet hair. The Dyson Supersonic now dries my hair within 5 to 10-ish minutes. No, I'm not even joking. This thing is insane. Imagine how quickly shoulder length hair would dry then? Someone please test it out and let me know!

Some other little things to mention is this Dyson Supersonic hair dryer review is that it comes with a 9-foot cord, which some find unnecessary, but if you enjoy moving around getting other things done while drying like I do, it comes in really handy. It also comes with 3 magnetic attachments; a smoothing nozzle, styling concentrator, and diffuser. These attachments really do help Dyson live up to their claim of making your hair smoother and adding shine.
Did we mention it's also extremely easy to use? It has a few key controls, one being the on and off switch, but two others controlling the speed (3 settings) and the temperature (4 settings). It also contains a cold shot button that releases a gust of air to set your styled hair.
Review Conclusion
To conclude our Dyson Supersonic hair dryer review, this miracle worker has saved me time and wet hair frustration along with protecting my hair from some very serious heat damage by drying it quickly and efficiently. It's never as smooth and shiny as when I've used this hair dryer. And I didn't even mention the amount of volume and body it gives it!
So… is all of that enough to make the $400 purchase worth it? Call me crazy, but yes. Every hard-earned cent.
Dyson Supersonic Hair Dryer Iron/Fuchsia
As an Amazon Affiliate, we earn from qualifying purchases.