Smart lighting is perhaps the most attainable piece in the connected home puzzle. It's easy to install a lightbulb, sync it with an app, and start controlling part of your home with a smart assistant. The problem often lies in the price, as WiFi-enabled appliances require additional smarts that the normal flip-a-switch versions don't need. Our Philips WiZ review takes a big step toward fixing that issue with their LED smart lightning solutions.
Even if you haven't heard of WiZ before, you've likely seen Hue, the other smart lighting brand by Philips that boasts an incredible ecosystem of smart lightning in bulbs, light strips, fixtures, and more. WiZ is perhaps lesser known, but it's also lesser priced, and — in many cases — more feature-rich.
WiZ review: features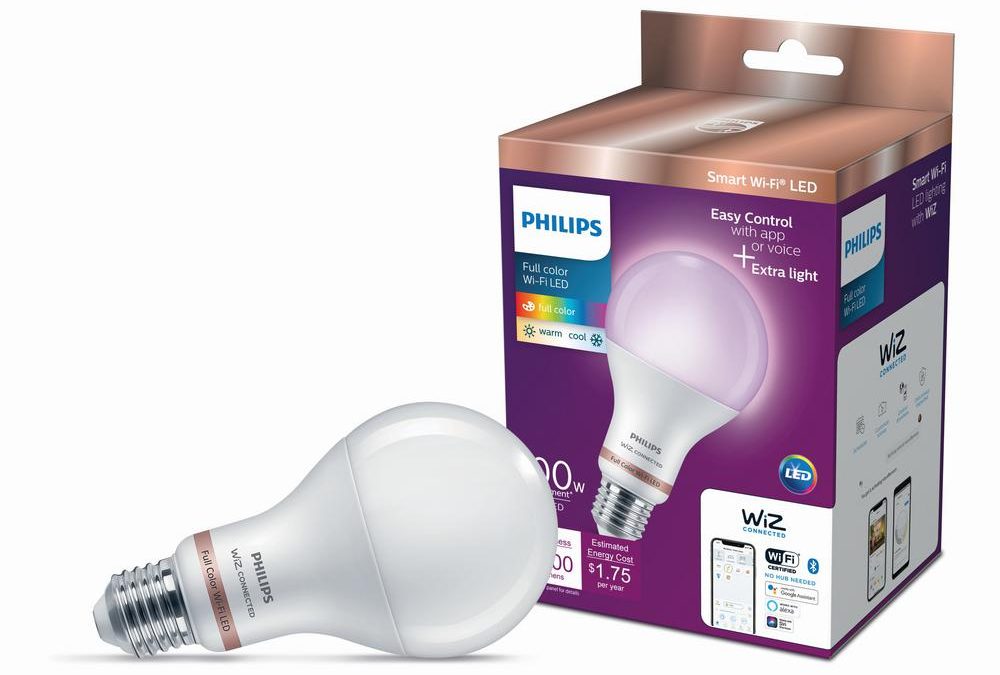 Let's start off with the physical features. The standard A19 WiZ bulb is somewhat large — bigger than the A19 Philips Hue bulbs — but boasts an equivalent incredible 800 lumens. It features a full spectrum of 16 million colors that can be adjusted in the app or via voice assistant, and it works over WiFi, so there's no hub to deal with here.
Once you jump into the app, the features get even better. As with most smart accessories, bulbs can be organized by rooms, and selecting the bulb provides a brightness slider and on/off buttons with a couple of scenes. Users can create custom scenes and choose to add them to Siri on iPhone as a Siri Shortcut.
And here's where we have to note the single biggest missing feature from WiZ — a lack of native Apple Home support. Fortunately, Amazon Alexa and Google Assistant users already have integration with their smart home platforms, and iPhone users do have Siri Shortcuts to help fill the gap.
One of the features I was most excited about during initial setup were Rhythms. This option allows the lightning to cycle through different colors or temperatures throughout the day, such as the built-in Circadian Rhythm option that starts the day with cooler whites and ends with warm, dim lighting. It's great for starting off the day energized and then winding down to a relaxed state. I would love for this feature to be supported by the Philips Hue app in the future.
Another handy option with WiZ lighting is the ability to set schedules, which allow the bulbs to automatically turn on or off or set a scene at a certain time and on certain days. This is great for slowly waking up to light in the morning or turning off the lights in the house at night, and it's a useful way to further automate your home, especially when paired with the Circadian Rhythm feature.
WiZ review: comparison
With several smart bulb options on the market, anyone wanting to begin a connected home will be comparing smart bulb specifications and pricing to other brands, especially when first deciding what ecosystem to begin building their connected home around. The factors to consider will vary based on your individual wants and needs, so we'll just cover the basic value offers in this review.
Philips WiZ features 16 million colors at 800 lumens for $24 per bulb at the time of this writing. Its big brother, Philips Hue, features the same 16 million colors and 800 lumens for $50 per bulb at this time. And one of the prominent competitors to Philips, Lifx, claims billions of colors at 800 lumens and currently charges $45 per bulb. All three platforms have a mobile app and support Google Assistant and Amazon Alexa, whereas WiZ is the only platform that does not support HomeKit. More savvy users can work around this with Homebridge, but this isn't an officially supported solution.
All three brands do not require a hub for new bulbs, but Hue provides a hub which is required for their older products but provides the advantage of not relying on WiFi on Bluetooth connectivity, which reduces the amount of devices that are connected to your home network or mobile device.
WiZ review: conclusion
To wrap up our WiZ review, these bulbs are a fantastic smart lighting solution for your home, with lower prices, intuitive usage, and flexible automation. The main downside of these bulbs applies to Apple HomeKit users, but everyone else can essentially get two WiZ bulbs for the price of one bulb from the competition, making a whole-home solution roughly half the price it might otherwise be.
The Wiz lineup can be viewed on their website or purchased at Home Depot or Costco, where a variety of smart home accessories other than just your average lightbulbs are also available. If smart home product reviews are your thing, check out our Schlage smart lock review.