We started using Truly Free as our laundry detergent of choice around 6 months ago, and since then we've enjoyed it so much that we wanted to share our thoughts in a thorough review.
Laundry detergent may slip from many of our minds as a potential health risk, but it actually envelops almost everything that touches your skin; clothes, bedding, bath towels, etc. That's a huge portion of daily life that is against most of the surface area of your body!
Because of that new found knowledge, we've been on the hunt for a detergent that cleans like other name brand detergents, but also has ingredients that are safer for our bodies and our families bodies. That hunt led us to the brand, Truly Free, and the performance has blown us away.
Truly Free's Online Appearance:
The first thing we're going to address is the elephant in the room; Truly Free's website. When you first click on their page you'll be taken back to the 90's where infomercials were all the rage. Seriously, it's like a time warp! We'll admit it looks a little sketchy from all appearances, but have determined that Truly Free's got their marketing on point.
All we see from other influencers online is how this brand looks like a scam, but isn't and their products work like a dream. Between that and the site itself, it really grabs your attention and curiosity. That's why we had to grab some of the items and see for ourselves. We had to know if it actually was a scam or just a really well hidden gem.
Using Truly Free
Once you get past the surprise of the website appearance, you'll be surprised, yet again, by the amount of products offered by Truly Free. So far we've tried the laundry detergent, oxyboost, stain remover, dryer angel, and even the washing machine cleaner, and dishwasher detergent.
You have the choice of their signature scent or unscented versions of the laundry detergent, and either of those options will get the job done. The signature scent is heavenly though and when you've thrown the dryer angel (basically a non-toxic dryer sheet) in with it as well, your clothes come out smelling so good you just burrow your face into them.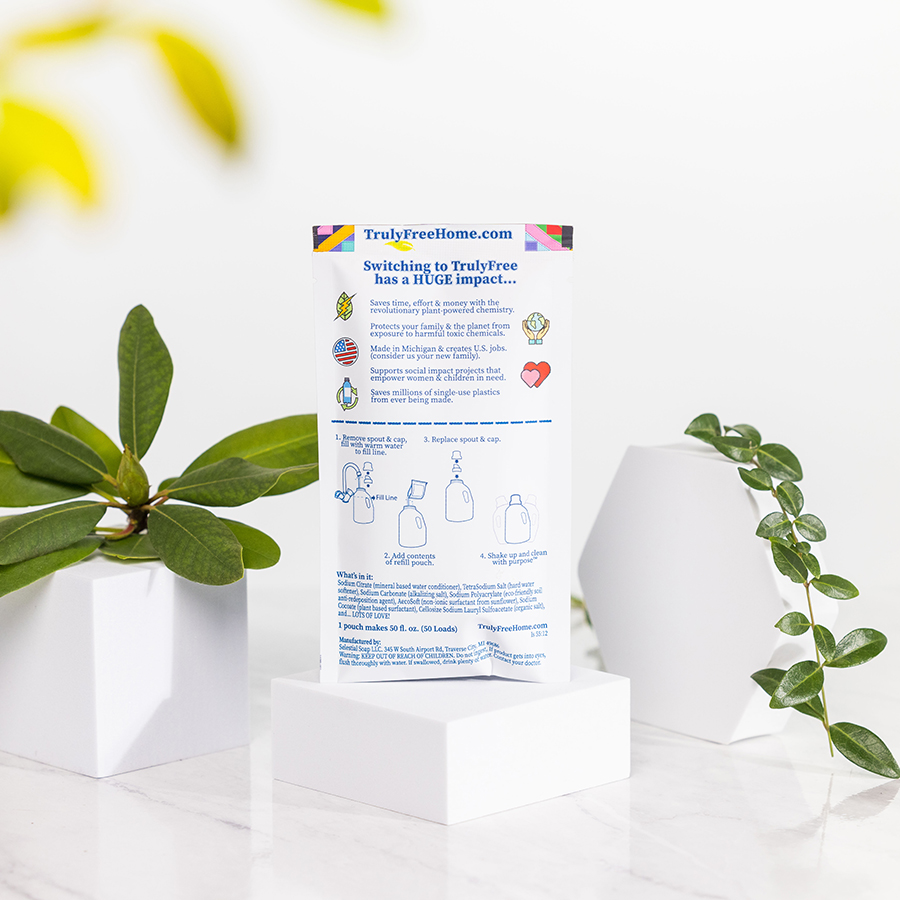 The ingredients are all listed with full discloser on their website and contain things like "Sodium Citrate, Tetrasodium Salt, Sodium Carbonate, Polyacrylic Acid Sodium Salt" and their "Signature Scent Blend of Essential Oils", if going for the scented versions of their products.
They also list a few things that you WON'T find in their laundry detergent such as dyes, phosphates, 1,4-dioxane, chlorine, formaldehyde, and other toxic ingredients.
After using some of these products in our own home, we can safely say that it all works very well and we're especially loving the laundry detergent. Our clothes are clean and bright, left with no stiffness or starchy feel to them, which we've noticed is an issue with some other non-toxic detergents. It takes only a small amount to do a load of laundry as well.
Purchasing Truly Free detergent
Your first order on Truly Free'd website will include a reusable plastic jug and after that all refills will come in a recyclable pouch that you pour into the jug. You just mix it with warm water, shake, and get going!
Truly Free is a subscription based company and offers massive discounts for signing up in this manner. You have complete control of when and what gets shipped to you and you'll even receive some free products after placing a minimum order!
The only negative we saw was when we were browsing around on the subscription page and our account. There is an option that says "order now" and since we were trying to investigate all areas of the website for our review we clicked on it and immediately an order was processed for us without any additional confirmation, which we didn't need. Customer service was excellent with solving the issue though and now we know to avoid that unless we need something ASAP! So just take that information and be aware when shopping around.
We hope to continue trying out some other Truly Free products and will write up more individual reviews for them soon. If you want to give this brand a try while sticking to a website you know and trust, you can purchase Truly Free detergent for yourself on Amazon.
As an Amazon affiliate, we earn on qualifying purchases.