If we told you the Dyson V11 Animal is the best vacuum we've ever owned it probably wouldn't be the first time you've heard that from a Dyson owner. This company really knows how to hit the ball so far out of the ballpark that people are basically begging them to take their money.
Remember the days when mom would give us the dreaded chore of vacuuming? It was with a massive, heavy to push, impractical machine tied to a wall outlet, restricting movement and causing unnecessary anger as you'd pull just a little too much causing it to unplug for the 15th time. Not to mention the dreaded emptying of the bag that attached to this so called vacuum and how messy that could get. Ah, those were the days.
Dyson V11 Animal Overview
All of that is the complete opposite experience of the Dyson V11 Animal (also great for humans with lots of hair on their head!) CORDLESS (oh yeah!) vacuum. Light, manageable, rechargeable, LED screen, and pure magic. With modes such as Auto, Eco, and Boost, there's plenty of options on how you want to clean your home. Dyson says it has "powerful 7-Cell Lithium-ion batteries and a Digital Motor." It also has a "Dynamic Load Sensor (DLS) that "allows the system to actively change the motor speed between carpets and hard floors." See? Magic.
Did we mention it has multiple attachments (and a mountable charging dock) and can easily become a handheld vacuum for hard to get places, including the car? The roller part of the vacuum swivels making getting between chairs and behind tables easier.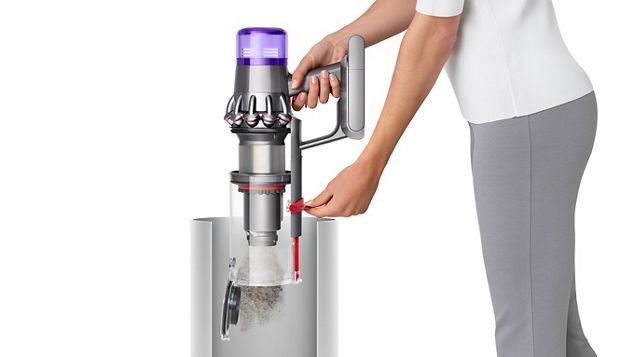 No bag to empty and clean on this vacuum either. Simply remove the vacuum from the stick, or other attachment you currently have on, and empty into the garbage bin with a quick pull of a release lever.
The suction power of the V11, especially on Boost Mode, blows any vacuum we've used previously out of the water. And yes, we have tested the "animal" part of this claim by cleaning up after a dozen or more haircuts in our house and it does it fact work and we wouldn't ever consider not having the Animal version, with or without pets.
Is the Dyson V11 Animal worth it?
The only thing better than this vacuum is a self working and emptying robot vacuum (review in the works for that as well so stay tuned), although we will admit we miss using the Dyson if the robot is doing all the work. Think that's crazy? Well that's how much we enjoy the specs of this incredible machine. You can experience this futuristic vacuum cleaner for yourself by picking up a Dyson V11 Animal on Amazon.
As an Amazon Affiliate, we earn on qualifying purchases.