The Dark Rock Pro 4 is a top-tier CPU cooler from the German manufacturer, be quiet!. It is designed for use in high-performance systems and is capable of cooling even the most power-hungry CPUs with ease.
Dark Rock Pro 4 Overview
The Dark Rock Pro 4 is distinguished by its excellent cooling capabilities. It can easily handle even the most demanding CPUs because of its 240W TDP (Thermal Design Power) rating. In fact, it can maintain low temperatures even when under a lot of strain, which makes it the perfect option for CPU overclockers.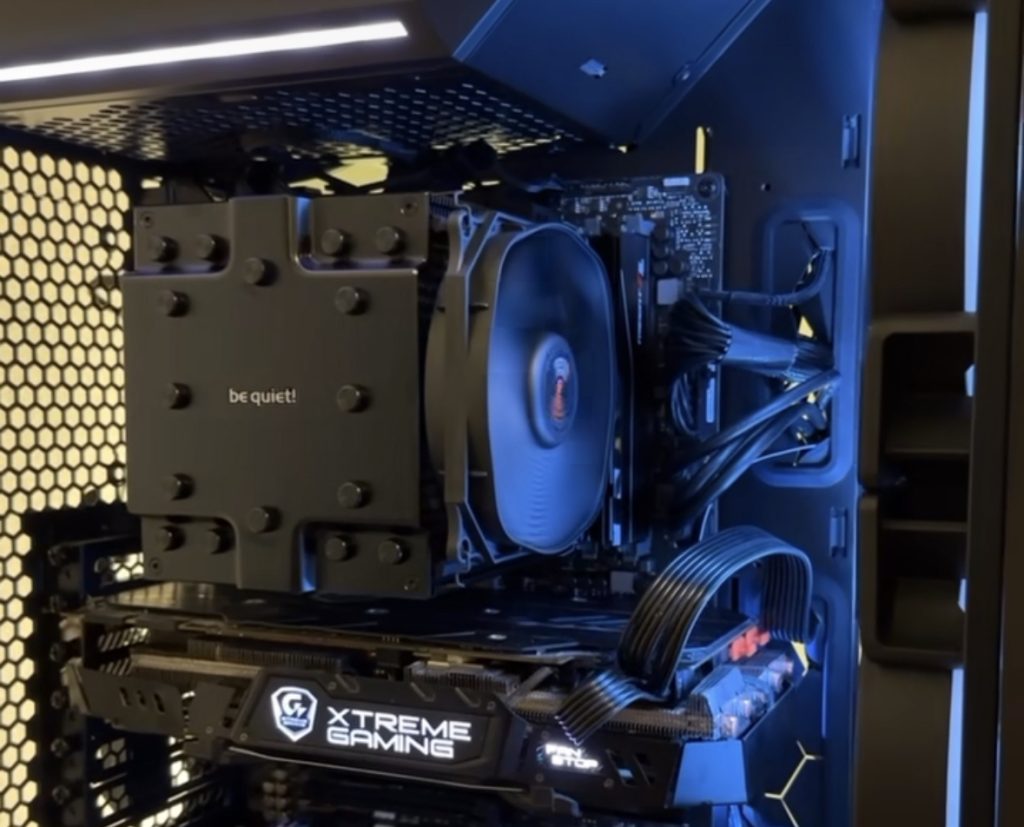 The Dark Rock Pro 4 is designed in a sleek, minimalist style. The cooler itself has two huge, silent Wings PWM fans, one on each side of the heatsink. Because these fans are made to be as quiet as possible, the Dark Rock Pro 4 is an excellent choice for individuals who appreciate low noise levels in their systems.
In terms of installation, the Dark Rock Pro 4 is fairly straightforward. It comes with all of the essential mounting gear, including an extra long screwdriver you'll need for the install. The cooler is backwards compatible with Intel 1700, 1200, 2066, 1150, 1151, 1155, and 2011, as well as AMD's AM4 and AM5 sockets. It also looks great in our Fractal Design Torrent Compact PC case, where the dark style is hidden behind a tempered glass side panel.
This is a huge cooler, and it will cover most of all of your RAM sticks, therefore purchasing extra for RGB RAM may not be the best use of money because the cooler fan will cover 2-3 of the sticks.
The Dark Rock Pro 4's stealthy functioning is one of its main selling advantages. Under heavy load, the two huge, quiet Wings PWM fans can make a fair amount of noise. However, the superior design of the fan blades keeps noise levels to a bare minimum and temperatures low for all but the most demanding of applications. Typical use and even gaming will have the fans spinning at perfectly acceptable noise levels, and only benchmarks or bursts of power will cause the fans to become noticeably audible. This makes it an excellent choice for folks who favor cool and quiet computing.
The Dark Rock Pro 4 performs admirably in terms of performance. It can maintain temperatures on a high-end CPU under heavy load to just over 60°C, which is impressive given the cooler's high TDP rating. It can also do this while emitting minimal amounts of noise, making it an excellent alternative for individuals who desire a quiet computing experience. In comparison to AMD's latest CPUs, such as the Ryzen 7 7700X, which may reach 95 degrees Celsius while under stress, the Dark Rock Pro 4 can maintain temperatures in the 90-93 degree Celsius range, providing optimal performance without thermal throttling.
Dark Rock Pro 4 Final Thoughts
Overall, the Dark Rock Pro 4 is a top-tier CPU cooler capable of handling even the most demanding CPUs. Its great cooling efficiency, simple installation, and quiet operation make it a fantastic choice for those wishing to build a high-performance system. If you're looking for a new CPU cooler and are ready to spend a little more for the best performance, the Dark Rock Pro 4 is a great option. You can purchase the Dark Rock Pro 4 at Amazon.
As an Amazon Affiliate, we earn on qualifying purchases.