Nonstick cookware has taken over so many small appliances in our kitchens that we've had quite enough, which is where this cast iron waffle maker comes in. We're out to find as many healthier options as we can to start replacing those nonstick ones. It may seem old fashioned, but we're sure it'll yield impeccable results. Which is exactly what this Cast Iron Waffle Maker proved to us! 
Overview of the Cast Iron Waffle Maker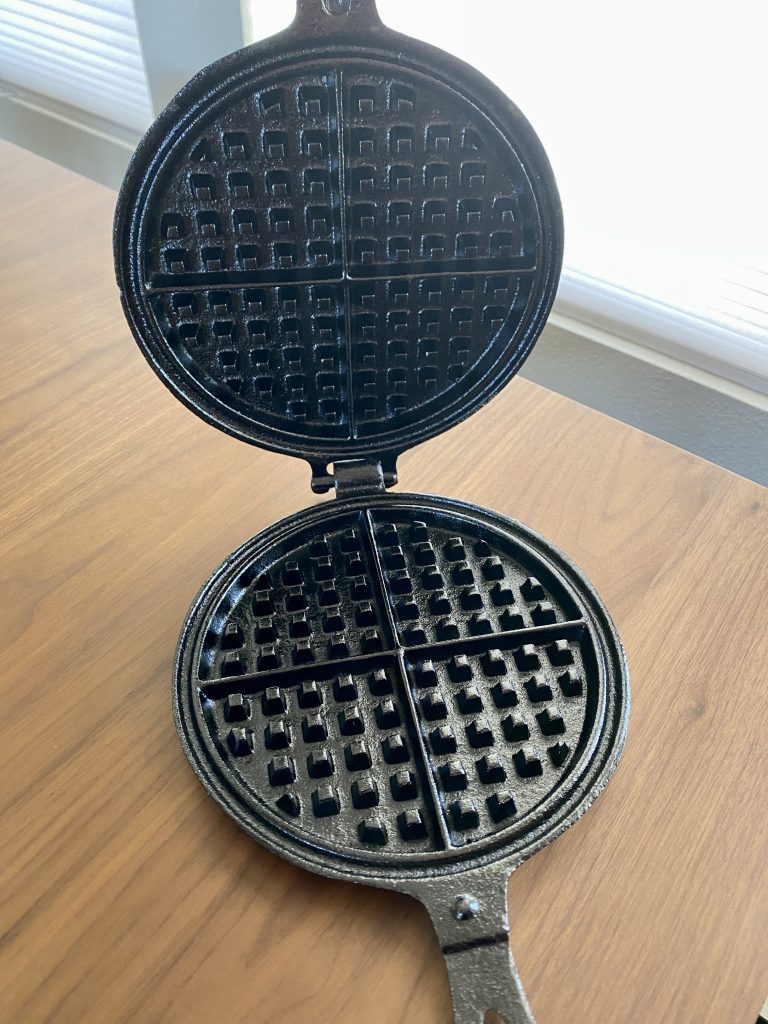 We're using Lehman's Cast Iron Waffle Maker, which is an 8lb, 14-inch workhorse with a 5-inch handle. All one piece! It makes 7-inch diameter waffles and is pre-seasoned with a food grade vegetable oil. We wish the seasoning was with a healthier oil, but with time, our own seasoning will build up over it. We prefer vegetable oil to chemical nonstick coatings anyway. 
Although the description on Amazon states not to use this item on glass cooktops, we have attempted it on ours, being very careful not to scratch the surface of our stove, and it works well. We also take care to not drop the heavy iron on it and to use heat safe cooking gloves/mitts when handling any part of the iron. It gets extremely hot, even the handle. Use caution! 
When we first received the item we gave it a good wash and learned it was much easier to dry on a warm stove burner than to try and get in between each deep pocket with a towel. If you don't dry cast iron well, it will start to rust on you. After a couple minutes on a hot stove though it soaks that moisture right up and you're good to go. The way this specific iron detaches the top and bottom pieces makes the cooking and cleaning process much easier as well. Think half the weight and no loose parts!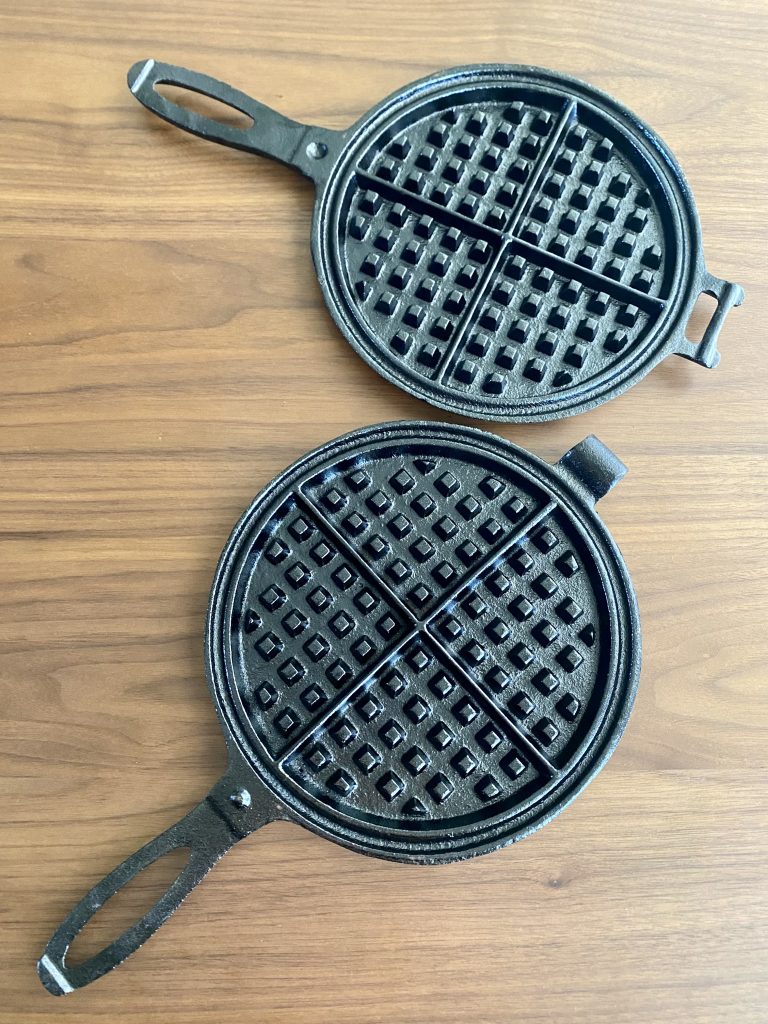 After a little trial and error (and asking the company for some tips), we finally pulled the most perfectly crispy waffle out of the iron. The experience was so rewarding we threw together another batch of batter and did it all over again!
So that was it. We were hooked. In fact, we've already taken our old electric nonstick Belgian waffle maker out of our kitchen and found it a temporary home in the garage for further evaluation.
Now keep in mind this type of iron will not yield big fluffy Belgian waffles that have been all the rage in recent years. It will, however, gift you the crispiest outside, softest inside, and most buttery flavor one can imagine. 
Tips and Tricks for Using a Cast Iron Waffle Maker
Okay, let's dive into some tips and tricks on how to make this iron work best for you. Remember to give yourself some grace and time to learn this one. Cast iron is wonderful, but it is also a huge learning curve.
Here's the tips we were given by the company itself:
Make sure your batter isn't too thin.
Heat both sides of the iron so one side isn't cold when starting out.
Use low-medium heat while flipping the iron every minute or so.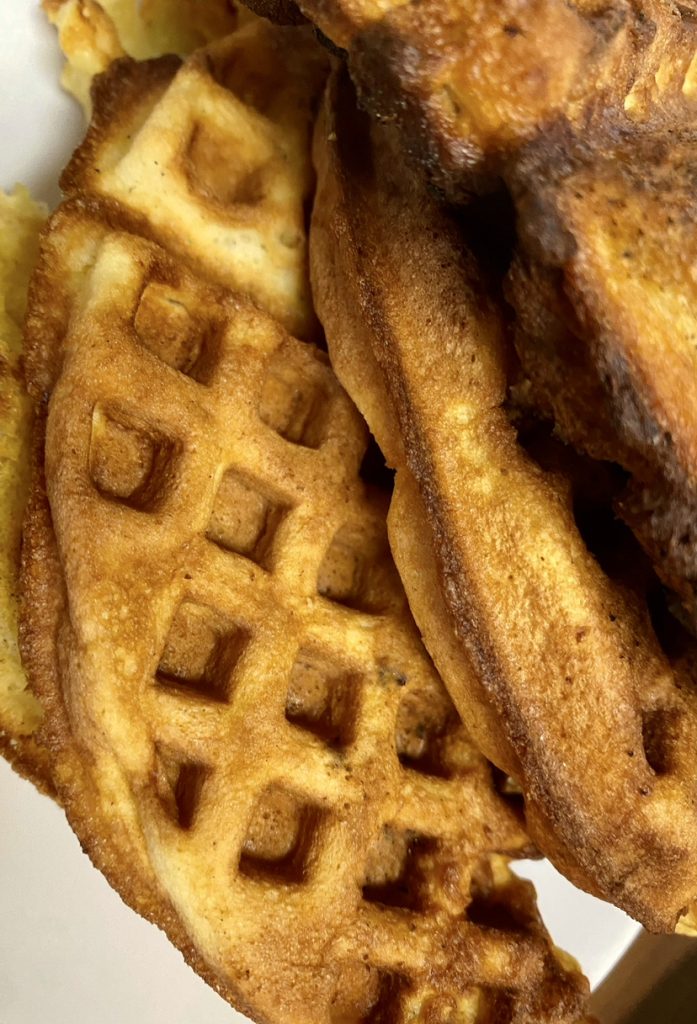 Now here are some tips we picked up while using and reviewing the cast iron waffle maker ourselves: 
Make sure your waffle batter has plenty of butter in it. We want those yummy breakfast treats to slide right out!
Along with that, make sure to grease your iron after each waffle and before pouring another one in. We used avocado cooking spray.
Let your iron heat up before starting to cook in it. We put our electric glass stove on the #5 setting and it seemed to be just right. You will have to play around with yours to find that sweet spot.
Be sure to fill the iron up with a decent amount of batter. We noticed that when we filled it too little, one side would not cook. We decided it must be due to it not touching that side of the waffle iron because of being too thin.
Let your batter sit for 30 seconds after pouring and before flipping the cast iron, so the batter hits the other side of the iron. This will help with the nonstick process. 
We cook our waffles for 3 minutes on both sides.
Keep at it until you find the right way to make perfect waffles for you and your family using this beautiful piece of craftsmanship! To add this tool to your kitchen, you can purchase a similar one for yourself on Amazon.
As an Amazon affiliate, we earn on qualifying purchases.