If you've found your way to this post about 360 Cookware's Slow Cookers, it might be because you're in search of a non-toxic way to slow-cook meals for you and your family. Or perhaps it's because your current slow cooker, made of ceramic, just chipped, broke in two, or cracked right down the middle (speaking from personal experience, yes, that can happen).
Whatever the case, we've been in the same situation and have happily since discovered a brand that has exceeded our slow cooker expectations tenfold: 360 Cookware. Their stainless steel slow cookers are not only multifunctional but also proudly made in the USA and are affordable (we've even got a coupon code for 25% off your purchase)!
360 Cookware
Based in Wisconsin, 360 Cookware is a US-based company that sources the majority of its materials from within the country. They are committed to reducing the outsourcing of materials for manufacturing, a transparency and dedication that truly sets them apart.
One of the things we love most about this company is their commitment to transparency and the explanations they provide on their website, which are top notch!
They also give full transparency on what goes into their stainless steel cookware on their website and we've included the statement here:
"Every piece of 360 Cookware is made of three primary metals that are bonded together with a .110 gauge (2.7 mm) of thickness. The inside layer, or cooking surface, is T-304 Surgical Grade Stainless Steel, 18/8. That 18/8 refers to the percentage of chromium and nickel in the metal. In this case, it's 18% chromium and 8% nickel.

The outside layer that sits on the burner is T-400 series stainless steel, which has a lower nickel content and high carbon steel content to interact on induction cooktops. These two layers of stainless steel surround a layer of aluminum. The aluminum does not touch your food, but ensures superior heat conduction and even heating."

360 Cookware
Avoiding harmful heavy metals played a massive part in our search for a slow cooker since we've been suspicious of ceramic pots containing those substances. We were very pleased to be reassured that the aluminum is encased between stainless steel and wouldn't be in contact with our food, but also happy to keep the aluminum around in a safe capacity since it is a better conductor of heat.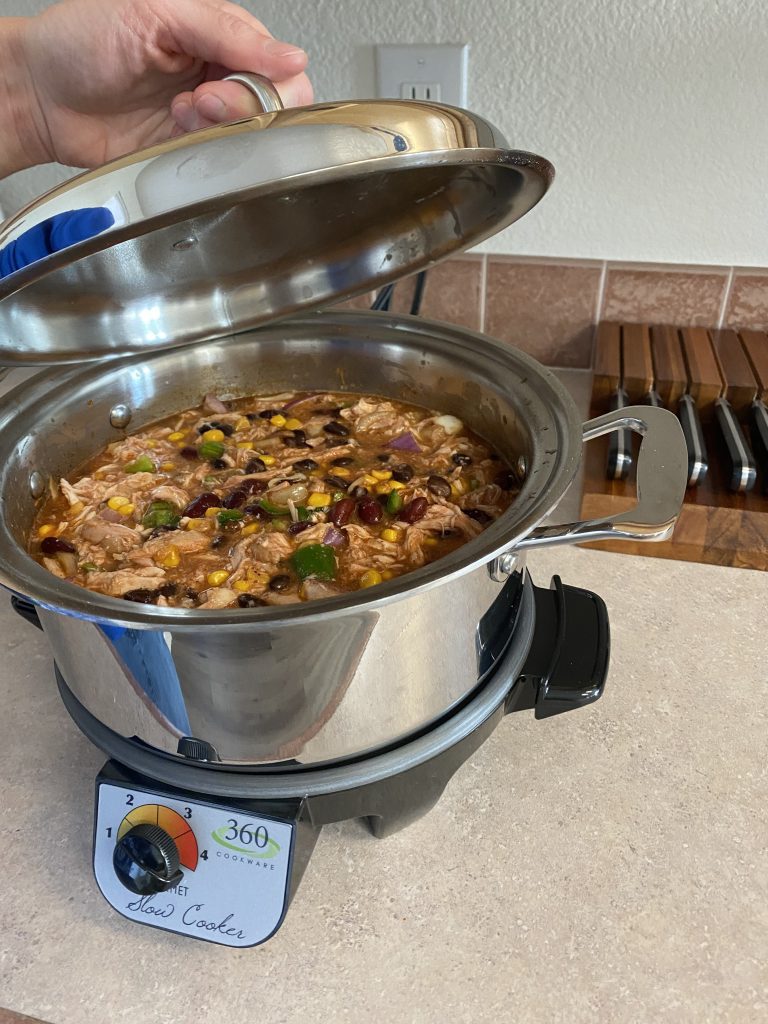 360 Cookware designed their products to use "Vapor Cooking Technology." This innovative approach allows you to cook food in these pots without adding unnecessary water, butter, oil, or other liquids that can add extra calories or siphon nutrients from your food. According to 360's website, "Vapor Cooking" constructs cookware to retain heat and moisture, enabling it to operate at lower temperatures. This results in food that cooks faster in its own juices.
So there you have it. 360 Cookware is a low toxic, stainless steel, US-based, healthier brand to cook with. Now, that's dive into the two items we've had the privilege of testing out the past few months.
360 Slow Cooker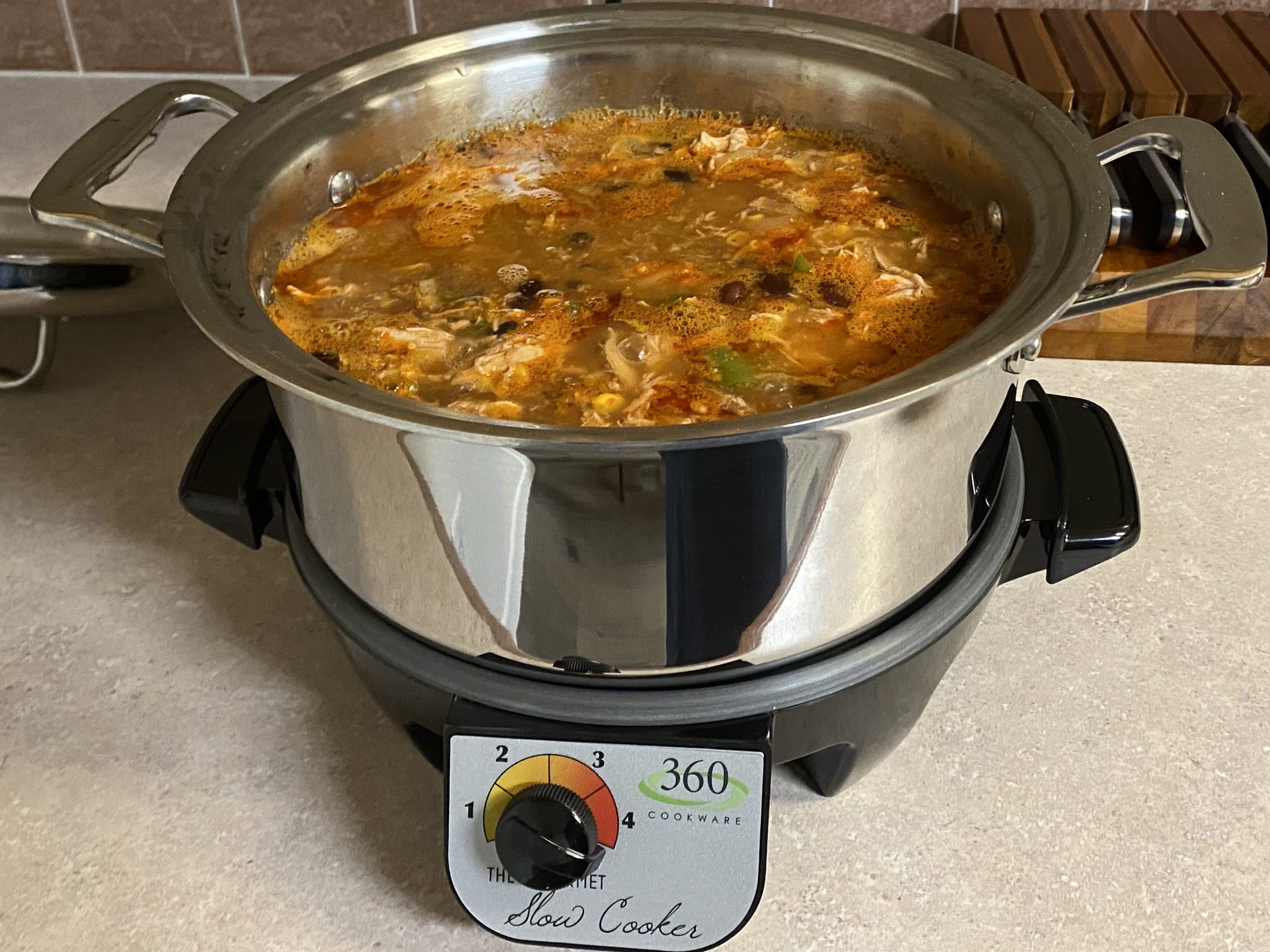 360's slow cooker stockpot comes in 3 different sizes, 2.3 qt, 4 qt, and 6qt, but they all come with the same heating base. We used the same base to test the 4 qt and 6 qt stockpot out on and both performed equally well on this heating source. The appliance offers four settings, and 360 provides a comprehensive manual that explains the best temperature settings for various dishes.
We would also like to highlight that these same stockpots can be used on your stovetop, making this slow cooker the most versatile cookware in our kitchen. We enjoy browning our meat on the stovetop and then transferring the pot to the slow cooker base for gradual cooking over several hours.
The first thing we noticed was how quickly our roasts, boiled eggs, pasta, soups, and other dishes cooked, whether on the stovetop or the slow cooker base (boiled eggs only on the stovetop). With other slow cookers, a roast would take us a good 6-8 hours to tenderize, but with 360 Cookware, it takes roughly 4-5 hours to achieve the same level of tenderness.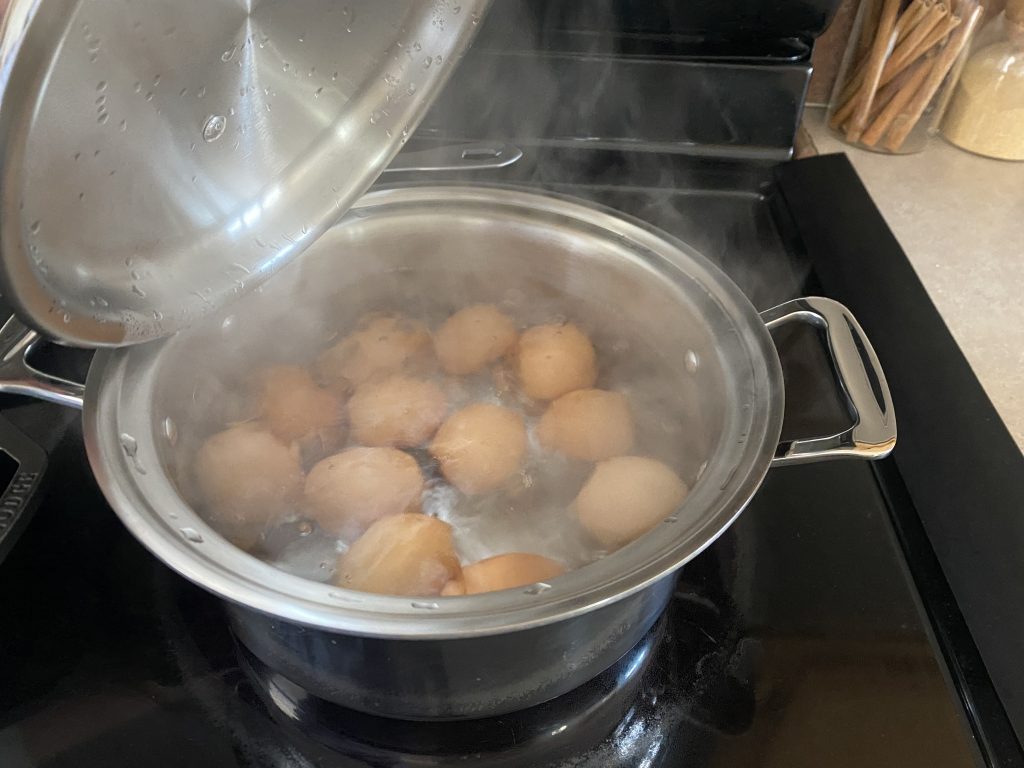 We decided to forego adding any liquid to our roasts and were astounded by the amount of natural juices that accumulated inside the pot, thanks to the "Vapor Cooking Technology." All we had to do was spin the lid after placing it on the pot, creating a seal. Amazing!
The second remarkable feature we noticed was how easy these pots are to clean! Whether by hand or in the dishwasher, we have never experienced such ease when it comes to stainless steel. If fact, many of us have been using toxic, non-stick cookware for so long because stainless was just too hard to maintain and clean. In the past we've purchased cheaper brands of stainless steel, and to this day those pans will not come sparkling clean after dozens of washes. 360 Cookware's materials and design are the reason we finally believe that cooking with stainless steel can be just as easy as nonstick. In fact, it's easier because you don't have to be concerned with scratching it and releasing chemicals into your food!
We've discovered that the 4 qt stockpot/slow cooker size is more than sufficient for our family of two and would be plenty for a family of 4-5 as well. The 6 qt stockpot/slow cooker is just the right size for a family of 6-8. So depending on what you're making, how many people you are cooking for, and how many days of leftovers you prefer to have, either of these sizes will check all the boxes. It is nice to have both sizes so that there are options for when we have guests over.
Another thing to take note of is how easy it is to store this slow cooker set. The pot is removable and can be stored with the rest of your cookware and the heating base can be put somewhere out of the way, as it is small and light.
This is the indeed the most minimal slow cooker produced to date, with multiple functions and uses in the kitchen, 4 settings that make it simple to learn, durability to last indefinitely, and the ability to cook and clean up like a dream. You can purchase the Slow Cooker from 360 Cookware for your own kitchen, and be sure to use code SELECTEDTEXT for 25% off 360 Cookware!